Discover more from Here's The Thing
Advice + Lists + Horniness, Mostly
Over 3,000 subscribers
Here's the Thing: Horny Round Up #2
It's the second edition of Horny Roundup!!! More things to be horny about!!
As ever, let's remember that horny is not solely sexual. Horny is about desire.!!!! You can be horny for outfits, songs, and Target gift cards, to name a few things.
This Week's Horny Round Up!!!
Sam Elliot in Road House. Sam Elliot puts his hair up all sexy to FIGHT PEOPLE. (He also just uses a rubber band which is super bad for your hair and causes breakage and also hurts to take out of your hair. But he doesn't care. He's got better things to care about, like bar fights and hitting on everyone). He is the rare combination of horny, chill, and respectful. Road House itself is… fine. It's not a magical script or anything like that. But Patrick Swayze is hot and horny and Sam Elliot is going to kill me with his dirty cowboy vibes.

This suit, which I need someone to buy for me IMMEDIATELY. It's an emergency, a real emergency. Can you BELIEVE this suit? Wearing this suit probably makes you feel like you're in the opening of Devil Wears Prada. And you're one of the models, not dumpy dumpy Annie Hathaway. This suit is like if pajamas learned BDSM. This suit is like seeing Mila Kunis in person. I want to date someone, fall deeply, irretrievably in love with them, and then have them cheat on me with a close friend just so that I can see them again months later wearing this suit.

Mike from Bachelorette. If Bachelor Inc. or whatever the parent company is called doesn't make Mike the next Bachelor they are SO MISGUIDED AND WRONG!!! (And possibly racist). This man is the biggest sweetiest man in all the land and his smile makes me want to die/cum. (Sorry, Mom!!!!). I can't believe they made him be on Bachelor in Paradise, a true hell-hole of a show, when all he ever did was be the most vulnerable, loving, positive guy, with the best set downs aimed at Luke P. I've never met someone so simultaneously normal (who wouldn't try to own Luke P.????) and so out of everyone's league!!!! Make this man the Bachelor so I can be Horny for 2 straight months.

There's something hopelessly erotic about Colin Ferrel not knowing how to wear gym appropriate attire. What is he DOING?!??!?! WHAT IS HE DOING. What. I actually don't even think this is horny, but I can't stop thinking about it and I need everyone to see it so there you go.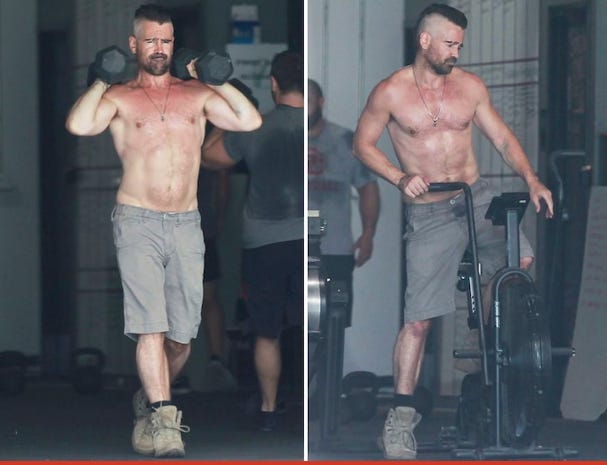 Least horny thing of the week:
The volleyball scene from Top Gun. I just watched this for the first time in my life (not the whole movie, just this scene) and can I just say SDLJfL:SKDJF:LSKDJf. Our parents got horny for a scene of men playing volleyball on a beach with jeans on??? Where men are just grunting and shouting and making very minor physical contact. They so clearly told all of the actors to pause and flex their lubed up muscles, which is just awkward. Tom Cruise has a wrist guard on. That's… not horny. And he's wearing his dog tags, which like, we get it, you're in the military— but isn't that a safety hazard while playing a sport? And then Tom Cruise puts on a leather jacket with a FUR COLLAR on the beach? I'm not horny. I'm confused. I'm upset.