Discover more from Here's The Thing
Advice + Lists + Horniness, Mostly
Over 3,000 subscribers
Horny Roundup!
What I was horny about this week.
Welcome to the first edition of Horny Roundup!!! Here I'll share a few things from the week that made me HORNT. As ever, let's remember that horny is not solely sexual. Horny is about desire.!!!! You can be horny for outfits, songs, and Target gift cards, to name a few things.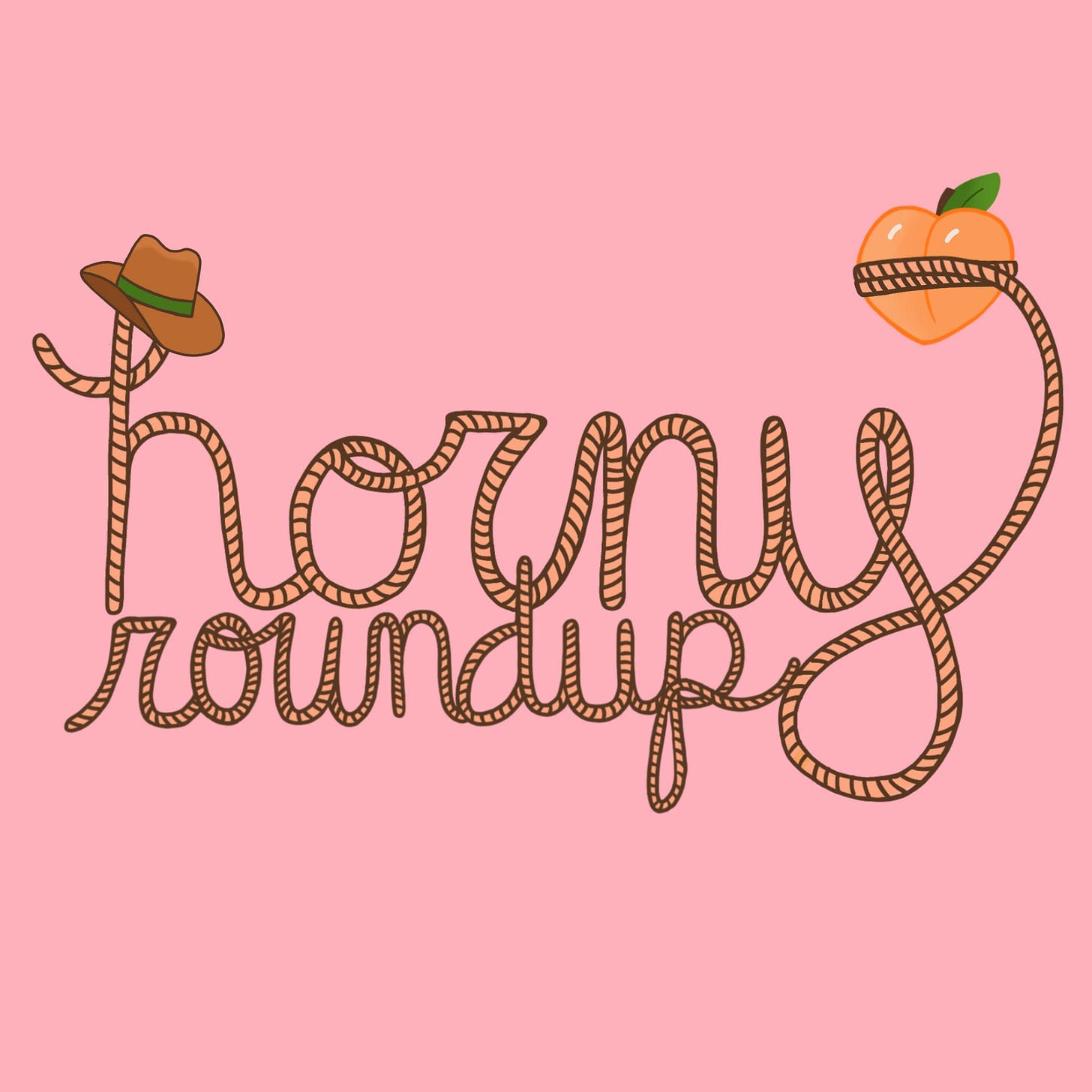 Wordslut by Amanda Montell. I need everyone to read this book. Not every single chapter was the most groundbreaking, riveting piece of writing ever written or anything, some were simply entertaining, BUT two chapters in particular dealt with how men tend to talk vs how women tend to talk and they were fascinating. So much of what Montell wrote is stuff that my female friends and I have casually observed before, and seeing it written out was kind of a dream come true. In the book she talks about how men tend to see conversations as competitive and women tend to see them as collaborative, which means that men tend to have one person who is dominating the conversation whereas women tend to talk over each other more seamlessly and ask more questions and try to verbally "invite" others to join. Wowwwwww.

Himesh Patel. Look, was Yesterday a good movie? No, not really. I love rom coms in general and Richard Curtis in particular so I went and saw it, but the movie was mediocre, sentimental fun, the movie equivalent of seeing a friend from high school when you're back home. That said, Himesh Patel can hit me with a minivan, he's so hot. I can't believe they made him shave his beard in this movie. Unconscionable. He was fucking sexy and they ruined it (he was still very, very hot); the movie fell apart. Because not only did they shave off his beard, they made his character a big dumb brat. The whole romantic subplot of this film was that Lily James had always been in love with Himesh Patel (relatable; yes; we get it) but that Himesh never thought of her as more than a friend. Which…. WHAT. What on god's green earth? No one of any sexual orientation has ever been friends with Lily James and not realized she was hot as shit, ok?!? Please. You're telling me that Himesh has just been hanging out with a straight up 10 out of 10 and meanwhile he's at home jerkin' it to like Queen Elizabeth or something? Get real. Lily James, even with the ugly girl haircut they tried to give her, is a mega-babe.

This Mamma Mia moment. This Lily James oversight on the part of Himesh Patel's character reignited my horniness for her in the seminal film, Mamma Mia 2: Here We Go Again. She's gorgeous, she's a fun girl, she's singing and dancing and fucking and sucking her way around Greece, which we love. Is it at all consistent with the narrative set up in Mamma Mia? No. But is it horny? Yes. They made a billion dollar franchise — BILLION— that wasn't centered around cis white men and instead was centered around sequins and feel good 70s music. Can you believe?!!! Anyway, the horniest moment of the film in my humble opinion is when Bill and Donna are in Bill's boat in the Mediterranean, which is already a horny scenario, and they're pretending like they aren't going to hook up but then Bill is a little cutie horndog, which we love. Spoiler: they're in the mood for a dance and they get the chance and it's horny. Watch the movie.

Bad country songs. This is embarrassing as hell, but what am I if not willing to embarrass myself for the sake of internet writing that I'm not being paid for. Recently, I've gotten real into country songs, and not like the good Jason Isbell type of shit, ok? I'm talking pop country songs about someone still being in love with the person they used to date. I love that shit. I eat it up. I wish there were a way to create a playlist based on the lyrical themes contained in a song rather than just similar sounding music, because I need to hear every song where someone is pining over a person who they used to fuck. It's horny. It's sad. It's wonderful. (Right now I'm listening to Tequila by Dan + Shay; I'm not strictly recommending this song, but it did come up as a question in bar trivia last week and I knew the answer, which I never would have had I not been deep into a bout of sad, horny cowboy music).

This outfit. The most expensive piece of clothing I own is a $70 coat I bought from Forever 21, so let me be very clear that I don't think anyone should own this outfit. $500 for a skirt? Are you fucking with me? And another $500 for the top? You're out of your mind!!!!! But I walked by the DVF store at The Grove (a mall in Los Angeles that is corny and corporate and wonderful as hell) and I saw this outfit and I knew which store I would loot if there was an apocolypse situation and I was at The Grove. They probably don't carry my size, actually. But again, unimportant because I'm simply horny for this look. Imagine all the cocktail parties I would crush wearing this outfit. Sophia, have you ever been to anything that even resembles a cocktail party? No. Thank you for asking.